Cosamin ASU Advanced Formula (180 Caps) for Humans
List Price:
$64.99
Sale Price:
$49.95
Code: 296846141
Cosamin ASU Joint Health Supplement for Humans is a dual synergistic formula that stimulates cartilage production by combining avocado/soybean unsaponifiables (ASU) with glucosamine and sodium chondroitin sulfate to maximum strength formula for people with joint discomfort.
For over a decade, Cosamin DS has served as the premium joint health supplement on the market. By combining the exclusive ingredients found in Cosamin DS with ASU, Nutramax Laboratories, Inc. has made the best even better.
What is ASU and how does it work?
ASU (avocado/soybean unsaponifiables) is obtained from avocados and soybeans. A potent ingredient demonstrated to protect cartilage which leads to improved joint function, ASU complements the effects of the other ingredients. While working through their own primary mechanisms of action, ASU, glucosamine and chondroitin sulfate together deliver comprehensive joint health support. Our trademarked glucosamine hydrochloride, chondroitin sulfate, and avocado/soybean unsaponifiables together were shown in cell studies to be better than the combination of glucosamine and chondroitin sulfate at inhibiting expression of several agents involved in cartilage breakdown.
What is joint cartilage?
Most of the bones in our bodies are held together with ligaments and covered by tendons and muscles. Cartilage is the slippery, cushion-like tissue that lines the ends of bones where the bones meet to form a joint, such as the knee or the hip. It is produced and maintained by its own specialized cells. When you do even the simplest of everyday activities, there is tremendous pressure on your joints. The protective layers of cartilage between the bones making up the joint allow the bones to move freely against each other, without pain. Cartilage, joint fluid and connective tissue work together like a shock absorber, allowing flexible joint function.
What should I look for when taking Cosamin ASU?
Individual improvement on Cosamin ASU can range from gradual to dramatic, with some individuals responding sooner than others. Cosamin ASU is a supplement providing key components to maintain your joint health; therefore, it works gradually. You should observe gradual changes in your comfort level. Give yourself time to respond. Look for subtle changes initially, such as an easier time going up and down stairs or getting out of a chair or bathtub and more comfort in daily activities, such as walking or any activity using your hands, knees, hips or back.
Cosamin ASU may be taken all at once or divided with meals throughout the day for a maximum of 4 capsules per day. Gradually reduce the number of capsules to maintain comfort level. Some individuals may respond sooner than others depending on the status of their cartilage and joint health. Once response has been seen, the number of capsules per day may be decreased to maintain comfort level.
Some individuals on this lower level may wish to go back to four capsules a day during the weekends or times of increased activity.
The maintenance level can also be used long-term to help maintain healthy joints. At any time, the number of capsules may be increased back to four capsules per day
Suggested Use

Serving Size 4 capsules

Maximum Protection
4 Capsules Per Day
Maintenance

(Once desired effect is noticed

Gradually reduce the number of capsules to maintain comfort level.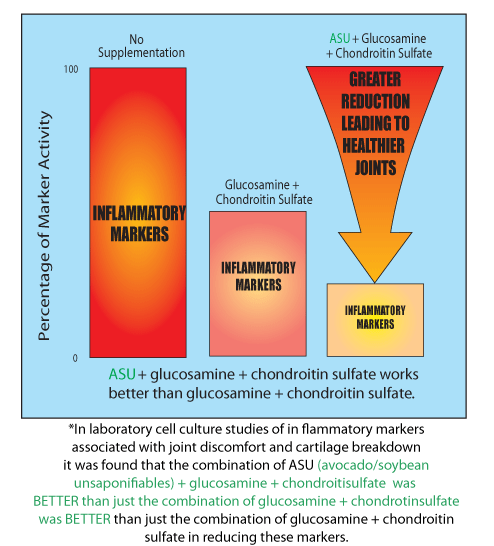 Supplement Facts
Serving Size:
4 Capsules
Servings Per Container:
180
Amount per Serving
Calories Total
15
Amount per Serving
% Daily Value+
Sodium
 70 mg
3
Total Carbohydrate
 1 g
<1
Protein
 1 g
3
Amount per Serving
High Purity FCHG49 Glucosamine HCI
 1500 mg*
TRH122 Chondroitin Sulfate Contains approx. 8% moisture
 800 mg*
ASU Blend
 400 mg*
Avocado/Soybean Unsaponifiables ASU Powder**
 
Green Tea Leaf Extract
 
* Daily Value not established.
+ Percent Daily Values are based on a 2,000 calorie diet. Your daily values may be higher or lower depending on your calorie needs.
Ingredients:
Glucosamine hydrochloride (crab and shrimp**), sodium chondroitin sulfate, gelatin, proprietary blend (avocado/soybean unsaponifiables, soy protein isolate, green tea leaf extract, tocopherols [preservative], silicon dioxide), gum resin, water, magnesium stearate, silicon dioxide, titanium dioxide, FD&C Yellow No. 5,and FD&C Blue No.1.
***Derived from crab and shrimp.
Some ingredients in this product may be manufactured in a facility that also handles soy, wheat, and/or milk.
Warnings:
If you have a condition or allergy that requires medical attention, you should always consult your physician before taking any drug or dietary supplement. Keep out of reach of children.
Cosamin ASU contains FCHG49 Glucosamine, TRH122 Sodium Chondroitin Sulfate, and NMX1000 Avocado/Soybean Unsaponifiables, Nutramax Laboratories excusive proprietary researched specifications.